I've been doing a lot of outdoor workouts lately to make use of the warm months while they're still here. I'm super thirsty after sweating it out in the heat, so I always remember to drink lots of water. But, it's also important to remember our body's need food after a workout too.
Whether you're trying to build muscle, lose weight, or stay healthy, it's important to treat yourself to a snack post-workout. After a tough workout, your body needs nourishment to replenish energy and also to help the muscles you just worked recover faster (so you can workout again sooner). Having a snack right after a workout will also help curb your hunger and stop you from overeating later in the day.
The ideal post workout snack has a mix of both protein and carbohydrates. There's a zillion different studies on the ratio of carbs to protein that is ideal to take in after a workout and they'll all tell you different things. I like to keep it simple and realistic, though; I just make sure I get a little of both and throw out all the calculations. I like to use the "science" of "how I feel."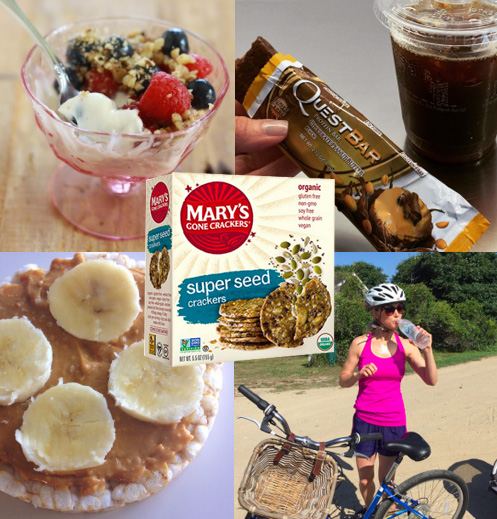 I believe fueling should be enjoyable and savored, so I think of my post-workout snack as a treat and make it tasty! Below are my top 5 favorite things to eat after a sweat session:
1) Greek yogurt with Barlean's coconut/chia/flax blend, berries and crushed walnuts: Greek yogurt is great because it contains both good quality carbs AND protein! Mix it with some berries and nuts for a nice little parfait that is delicious and nutritious!
2) Protein Shake made with grass fed whey protein powder, frozen banana, ice and water or unsweetened almond milk: Whey protein is a great way to get protein into your system fast because it is easily absorbed into the body. This is perfect for a hot day, or an after workout breakfast.
3) Quest Protein Bar: This is my easy "on the go" option to replenish protein quickly after a real hard workout.
4) Cheese & Crackers: This is my favorite post-workout, pre-dinner snack. The cheese provides some protein & fat, while the crackers provide the necessary carbs. My favorite crackers are Mary's Gone Super Seed Crackers because they taste good and are packed with flax seeds, pumpkin seeds, poppy seeds, etc. and none of the junk!
5) Almond butter and banana on rice cake: When you're craving a little crunch and little sweetness, this is a perfect option! I take a rice cake and spread about 1-2 Tbsp of almond butter on top. Lastly, top it with half a banana sliced.
What I also love about all these snacks is they're quick and simple to make! You don't want to wait a long time after a workout to get some food into your body.
——
Visit Kristin's original post: My top 5 favorite post workout snacks